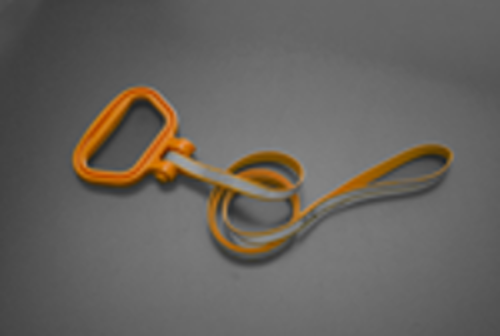 I have designed the only closed loop handle with a locking removable peg on the market. It is the most useful and versatile handle for the sportsman. The "Multus" handle weighs less than 4 ounces, fits in your pocket and it enables the user to change the straps, ropes or cables for pulling, dragging or carrying objects. It is a multipurpose handle for use all year and not just during the hunting season. It can easily attach to any part of the deer for easier transport. It can be an accessory to your sled, hunting bags and equipment.
It has a deadlift capacity of up to 250 lbs and you can drag up to 350 lbs. It comes with a safety reflective 46" nylon strap. The loop opposite the handle allows for easy and fast attachment to almost anything, cinch to secure and pull. It is useful to the young and old, male and female outdoor enthusiast.
I have worked in orthopedics and pain management for 20 years. Many injuries can be prevented. Work smarter and not harder when lifting and dragging. The most common injuries are to the hand, shoulder and low back. The closed loop handle was designed to protect the hand and to distribute the load across the hand without pinching at any angle of pull. The strap is a lever arm that reduces low back and shoulder stress to reduce injuries. The combination of the handle and strap reduces hand, shoulder and low back injuries by allowing for the best ergonomics when lifting, dragging or carrying.
Deer
Wild hogs
Turkey's
Bears
Geese
Alligators
Small game
Tree Climber Hauler
Deer stand Mover
Accessory to most dog leashes
Training, teaching handle
Dog leash & Handle
3.Universal Handle Replacement
Ice Chests
Tool Chests
Storage containers
Home made boxes
Tools & Equipment
Lawn Mower
Wagons
Pull and Drag Lumber, Equipment
Hanging equipment & materials
Contain Extension cords, wiring & cable
5.Universal Luggage Extender Handle
6.Universal Package & Grocery Handle hauler
Contain Ropes, Hosepipes
Hauling Plants
Pull & Drag limbs and trees
Camping accessory
Anchor rope handle
Boat rope accessory
9.Universal Stabilizer Handle
It is not to be used on humans or to suspend objects overhead.
Visit us at MultusProducts.com or DeerDrag.com